Miel Artisanal Non Pasteurisé - Produit du Québec
Raw Honey 1 kg (liquid)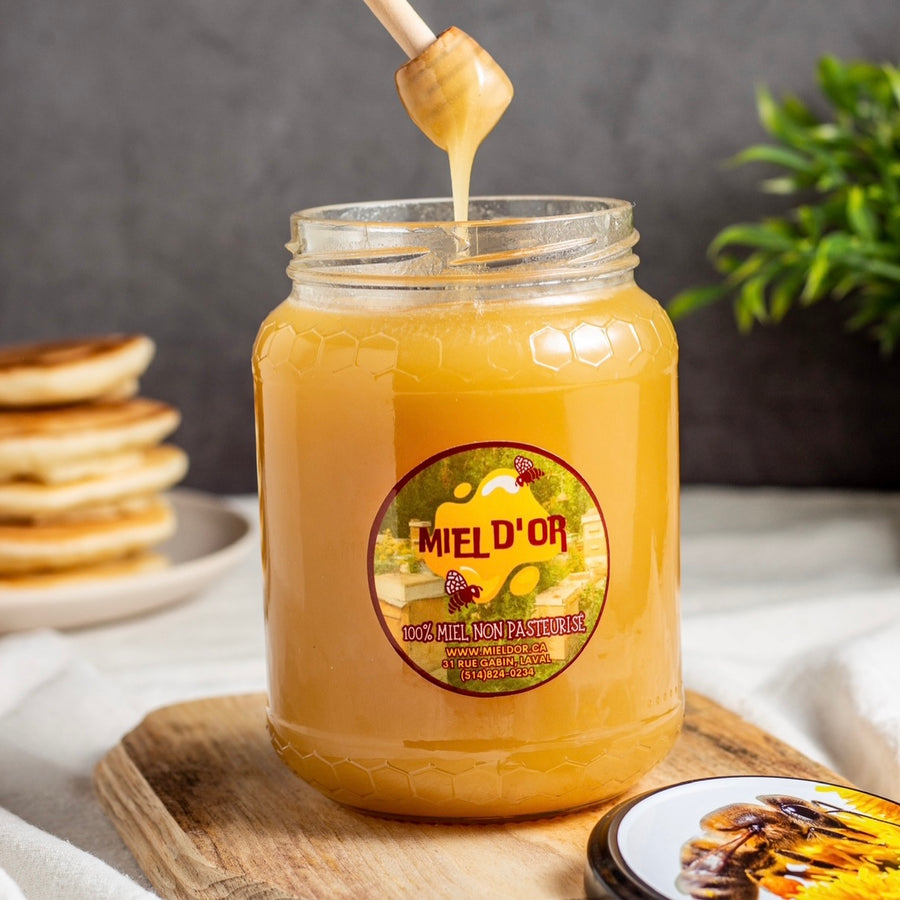 Raw Honey 1 kg (liquid)
Savor the untamed sweetness of hand-harvested raw honey from Mascouche's wild forest. Unpasteurized, unfiltered, and...
Regular price $16.00 Sale
Savor the untamed sweetness of hand-harvested raw honey from Mascouche's wild forest.
Unpasteurized, unfiltered, and 100% natural, this golden elixir is free from preservatives or additives.
Straight from the hive to your table, experience the purest form of honey with complex flavors and delicate nuances of wildflowers that grace this beautiful landscape.

Note: Honey's color/texture may vary slightly, due to the natural cristallization process.
At our company, we strive to provide our customers with the utmost convenience and satisfaction. That's why we offer:
-

 

Local delivery within 24-48 hours

 

in Laval and Montreal on all orders over $80, for a flat fee of 10$.
No need to worry about traffic or parking, we'll bring your order right to your doorstep in a timely and efficient manner. This is just one of the many ways we show our appreciation to our valued customers and ensure that their experience with us is as seamless and enjoyable as possible. 
Shipping in Quebec and across Canada
We understand that our customers come from all over Canada, which is why we offer national shipping at the fee of the customer. No matter where you are located, you can enjoy our products delivered straight to your doorstep. Our team works tirelessly to ensure that your order is carefully packaged and shipped in a timely manner. We also provide tracking information so that you can follow your package every step of the way. We take pride in our ability to deliver our products to customers across Canada, and we are committed to making your  shopping experience with us as smooth and hassle-free as possible.